The Stages of Labor
Stage two
Stage Two Labor
Pregnancy Facts
First babies usually take longer to deliver than second and third babies, because the unused birth passage is tense and unyielding.
Stage two labor is more intense than early labor. You might not be able to talk or walk through these contractions. In this stage, you should not eat anything (if an anesthetic is administered when the stomach is full, severe nausea might occur and complicate delivery). You may sip some fluids or eat hard candy or ice chips if you like.
Now is the time to use the breathing and relaxation exercises you were taught if you went to childbirth classes. These will help you relax and tolerate the pain. But don't expect them to make the pain go away completely—it is very unusual for this to happen. Expecting a pain-free labor will probably leave you very disappointed and surprised. Your cervix has to dilate to 10 centimeters, and the baby has to work her way down the birth canal—this just hurts.
Now is the time to get going. In the second stage of labor you should go to the hospital or birthing center to prepare for delivery. Ideally, you will have preregistered and won't have too many forms to fill out between contractions. When you're admitted, you will meet a nurse (or midwife, if you are delivering your baby in a birthing center) who will guide you through the rest of your labor and delivery. She will explain what's happening and will answer your questions. To prepare for the safe delivery of a baby in a hospital you can expect the following:
Temperature, blood pressure, pulse, and respiration will be taken frequently throughout your labor.
The nurse will apply a fetal heart monitor. This is a machine that will indicate your baby's heart rate and the frequency and duration of your contractions. The monitor might be attached externally to your abdomen or internally to your baby's scalp.
The doctor or nurse will perform a vaginal exam to check the dilation of your cervix to judge how far along you are in the labor process.
You'll tell the nurse whether you want a natural or medicated birth. So much depends on how labor progresses that it is almost impossible to know, ahead of time, whether or not a woman will want or need pain medication. Regardless of what she has written in her birth plan, a laboring woman should always have the option to change her mind about pain relief.
In days long passed, it was routine to give women in labor an enema (to empty the bowel, making more room for the birth canal to expand) and to shave their pubic hair (to keep bacteria out of the vaginal area). Today, many doctors and midwives have abandoned these practices, and recent studies show they are unnecessary. Still, some continue the habit. When you write your birth plan, talk to your doctor about having an enema and shaving. If you have the option, tell the primary nurse when you enter the hospital what you and your doctor have agreed upon.
You will have a bed to lie on during labor, but that doesn't mean that lying on your back is the best labor position for you. If you are not hooked up to fetal monitors or an IV pole, ask the nurses if you can get up and move around. Try different positions during your contractions until you find one that makes you feel most comfortable. Possible labor positions include the following:
Kneeling on your hands and knees. This is especially good if you have pain in your back.
Walking around. This can help the labor process move along. Standing up allows gravity to work for you because being upright helps the baby move down the birth canal.
Kneeling on the bed and holding on to your partner. If he sits on the edge of the bed and you kneel behind him, you can let gravity work for you without leaving the bed.
Sitting in a rocking chair.
Sitting or standing in a shower, if allowed.
Sitting or lying on a large ball (sometimes called a birthing ball). This is not possible, however, if you have an epidural to numb pain early in your labor.
Daddy Alert!
No matter how much you and your partner have practiced for active labor, you can't count on things going as expected. Your calm and collected spouse might get loud and obnoxious. She might tell you to get out. She might cry and forget everything she's practiced. Whatever happens, stay supportive. Follow her lead and give her whatever she needs. Don't be critical or demanding, just do your best to offer encouragement.
Hey Mom!
In the second stage of labor it's not uncommon to feel sick with nausea, chills, sweats, or shakes. Deep breathing and relaxation exercises can help you through this.
The best labor position is the one that makes you feel most comfortable. Try them all out, move back and forth from one to another. If you're able, moving around helps labor progress.
This stage of labor can last about 4 to 6 hours as your cervix continues to dilate (about 1 to 1½ cm per hour). Things move along a little faster if you've previously given birth.
As your cervix becomes almost fully dilated, you'll have contractions that last for 60 to 90 seconds. You'll also have a strong urge to push out your baby. This "bearing down" is like pushing out a difficult bowel movement. You strain the vaginal muscles to push the baby down the birth canal. When you first feel this urge, the nurses might tell you not to push yet. This means you aren't dilated enough for the baby to be pushed out. (It can be hard to resist the urge but they know what they're doing!)
When you are fully dilated (at 10 cm) and feel the urge to push, it's time for delivery. If you are in a hospital, you might be wheeled into a delivery room where your doctor will join you, or you might deliver right in the labor room. After a quick examination and review of your labor, you'll be relieved to hear the doctor say, "Push!" with the next contraction. This pushing stage can last anywhere from a few minutes to a few hours. This is where you might find yourself getting very tired and impatient, but the end is near.
This is also when the doctor might perform an episiotomy. This is a surgical incision that is made from your vagina toward the rectum in order to make the opening wider. An episiotomy prevents tearing, which can damage the pelvic muscles. If there is enough time to give a local anesthetic into the area, the doctor will do that. But if you've had an epidural, you won't need further anesthesia.
There is some debate over the necessity of having an episiotomy. Certainly, it's not a necessity if the baby's head has enough room to pass through. But whether or not to perform an episiotomy is a judgment call made by the physician at the last moment. I would estimate that probably 90 percent-plus of first-time mothers get an episiotomy. On subsequent babies, there is more room, and the necessity for an episiotomy is less likely.
excerpted from: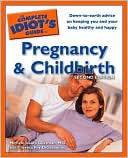 Excerpted from The Complete Idiot's Guide to Pregnancy and Childbirth © 2004 by Michele Isaac Gliksman, M.D. and Theresa Foy DiGeronimo. All rights reserved including the right of reproduction in whole or in part in any form. Used by arrangement with Alpha Books, a member of Penguin Group (USA) Inc.
To order this book visit Amazon's website or call 1-800-253-6476.