The Stages of Labor
Stage three
Stage Three Labor
What? There's more? After the birth of your baby, contractions will continue, at intervals of about one minute, to help deliver the placenta. The contractions help separate the placenta from the uterine wall and move it down into the vagina so you can then push it out. Your doctor might help by pressing and kneading the uterus and gently pulling on the umbilical cord.
After the placenta is delivered, your doctor or midwife will stitch up your episiotomy (if you had one) and any tears (if necessary).
Now, you're finished. The labor and delivery that you looked forward to for so long is over and you are now officially a mother. At this time the nurses will sponge-bathe the lower part of your body, give you a clean gown, and help you put on a sanitary napkin to absorb the blood you will pass. You might also put an ice pack on the perineum (crotch area) to ease the discomfort of the stretched tissues.
During this third stage of labor, your newborn baby is probably lying on your stomach (or nursing, perhaps) while you and your partner admire, praise, and gush over this new miracle of life. If you are planning to breast-feed your baby, you might start nursing right away. (This early breast milk is not high in calories, but is high in antibodies that protect the baby from infection.) If you talk softly to your baby he might turn and look for the face that goes with the voice he has listened to for the last nine months.
excerpted from: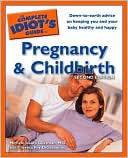 Excerpted from The Complete Idiot's Guide to Pregnancy and Childbirth © 2004 by Michele Isaac Gliksman, M.D. and Theresa Foy DiGeronimo. All rights reserved including the right of reproduction in whole or in part in any form. Used by arrangement with Alpha Books, a member of Penguin Group (USA) Inc.
To order this book visit Amazon's website or call 1-800-253-6476.