Multiple Births
Labor and birth with twins
Current recommendations are that an obstetrician should attend a twin birth. If you're planning to have a vaginal birth, the labor should be almost as quick as it is with one baby.
Continuous monitoring of both heartbeats is recommended during a multiple labor. This is usually done by putting one strap around your belly for each baby, but sometimes the second baby is monitored in this way and the first baby may have a scalp electrode put on his head (see Scalp electrode), which gives a clearer picture of the first baby's heartbeat if it has been difficult to find.
Delivering the first twin
For your first baby, the chance of using forceps or vacuum is the same as for a singleton birth, although the birth of the first twin may need to be assisted so that the doctor can gain quick access to the second twin. After the first twin's delivery, his cord is clamped and cut, but the placenta usually remains in the uterus until the second baby has been born.
Delivering the second twin
The medical team will confirm whether your second baby is head- or bottom-first, either by feeling your abdomen, doing an internal examination, or by scanning you. As the second baby's head or bottom enters the pelvis, the second bag of water may be broken to encourage strong contractions. A normal birth should follow in about 30 minutes, and forceps or vacuum are only used if problems arise. If the second twin is bottom-first, a doctor should be on hand to help. It's unusual for the first twin to be born vaginally and the second to be born by a cesarean, but this may happen if the second baby needs an urgent delivery and a vaginal birth seems unsafe.
Delivering the placenta
There is a greater risk of postpartum hemorrhage with twins, which means that an active management of the third stage may be advised (see The third stage).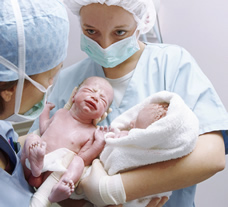 Questions And Answers
Will I have a say in how I deliver my twins?
If you are having twins, you will get the chance to discuss your plans for giving birth with your obstetrician during the pregnancy. Your decision to have a vaginal birth or a cesarean section will probably be based upon several factors, such as the position of the babies. Once you have been given enough time to consider all of the relevant information, safety is the most important factor.
Can I have a home birth with twins?
Home births in the US are very rare, and organizations like the American College of Obstetricians and Gynecologists and the American Medical Association recommend against them because of the potential for complications, even in low-risk singleton pregnancies. For the safety of your babies, a hospital birth is recommended.
excerpted from:
Excerpted from Pregnancy Day by Day.
Copyright © 2008 Dorling Kindersley Limited.
Buy this book now!