Feeling Your Baby's First Movements
Let the games begin. Sometime in the fifth month, your baby will give you a hello kick. (It's been moving since the ninth week, but you haven't been able to feel it.) This is an absolutely thrilling moment, which you can easily miss if you aren't paying attention. Women describe these first movements as a feeling of butterfly wings flapping inside them; others feel a faint twitch or a punch. You might even think you are feeling hunger pains or gas.
After a while, you might be able to tune into your baby's sleep/wake schedule. Often she'll wake and move around as soon as you lie down to rest. Although your baby's activity at this time might seem like an intentional plan to get you used to staying up all night, it probably means that you're simply more focused and aware of her movements than you are when you're active yourself. Also, babies like motion; it lulls them to sleep.
If you don't feel any kicking this month, tell your doctor—but don't panic. If the heartbeat is strong and all other vital signs are stable, there's no reason to worry. It might simply be that you're due later than you thought (making your baby a few weeks younger).
excerpted from: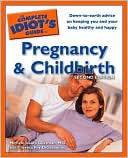 Excerpted from The Complete Idiot's Guide to Pregnancy and Childbirth © 2004 by Michele Isaac Gliksman, M.D. and Theresa Foy DiGeronimo. All rights reserved including the right of reproduction in whole or in part in any form. Used by arrangement with Alpha Books, a member of Penguin Group (USA) Inc.
To order this book visit Amazon's website or call 1-800-253-6476.