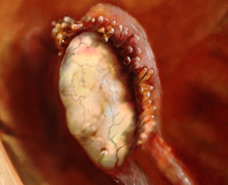 What's happening inside
The ovary can be seen here at the end of the fallopian tube. At around this time of the menstrual cycle, a follicle at the surface of the ovary releases an egg, which is swept down the tube by clearly visible fingerlike projections called fimbriae.
You're highly likely to ovulate today, if you haven't already, and if egg meets sperm you may soon be pregnant.
Typically ovulation occurs around day 14 but it can occur earlier or later. Ovulation is when an egg is released from your ovaries (sometimes two eggs are released). LH rises thanks to estrogen output from the growing follicles (see This is Day 12 of your Menstrual Cycle), and it is this rise that triggers the events that now take place in the follicle. LH makes the egg inside the follicle become fully mature, ready for release and fertilization. This is the point at which the egg reduces its number of chromosomes (see How genes are passed on) from 46 to 23.
The follicle is rich with fluid by now. Just before ovulation, it is some 1 in (2 cm) or more in diameter. In position, it lies just below the surface of the ovary. If you could see the follicle, it would look like a blister about to burst. Next the follicle produces enzymes that digest its outer layer, releasing the egg on to the surface of the ovary.
Once the egg is released from the follicle, it's soon swept into the nearest fallopian tube by the fingerlike projections that form the end of the tube, where it will hopefully be fertilized.
Focus On... Relationships
Pressure to conceive
If you're trying to conceive, you may have little else on your mind and this can put a strain on your relationship. With the goal of pregnancy in mind, it's easy to become clinical about sex. At this point, you and your partner may be regarding each other not so much as sex objects, but as components of a baby-making machine. Enjoyment can so easily get lost.
Understandably, you may find that your partner becomes aggrieved if he feels pressure to provide sperm; the distress may have an adverse effect on a man's willingness and even ability to have sex. If this happens, it can lead to a downward spiral, which naturally makes conception less likely, and may cause discord.
Make an effort to be loving and work together rather than against each other. Consider taking a break; couples often conceive when they're away on vacation and more relaxed. Make sure you also enjoy some stress-free sex outside of your fertile window.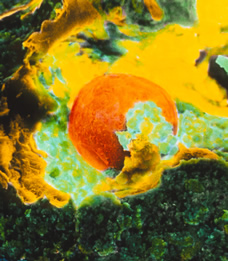 As A Matter Of Fact
If you've had nonidentical twins already, your chance of having another set quadruples.
Nonidentical twins occur when more than one follicle ripens completely and the two eggs released at ovulation are both fertilized. The increased chance of having another set of twins is because most women who conceive nonidentical twins (without fertility drugs) show a pattern of releasing more than one egg per cycle. Your chance of having a second set of twins is about 1 in 3000.
excerpted from:
Excerpted from Pregnancy Day by Day.
Copyright © 2008 Dorling Kindersley Limited.
Buy this book now!