Physically Strenuous or Hazardous Work During Pregnancy
Desk job
Computer Work
In the 1980s, certain studies suggested a link between video display terminals (VDTs) and problem pregnancies. The media picked up the story, and it persists today. But since that time, many more studies have been conducted on the connection between working in front of a computer screen all day and birth defects and miscarriages. So far, there seems to be no relationship between the two. The level of radiation emitted from a computer is less than the level you receive from sunshine. Panic is certainly not called for.
But if you are still worried about radiation from your computer, you can take some steps to make yourself feel better.
Try to reduce the amount of time you spend in front of the screen when you are not actually using the computer.
Some people feel safer when they put a grounded electrically conductive filter over the screen.
Pregnancy Facts
The Supreme Court recently ruled that women of reproductive age could not be barred from working with materials that might be hazardous to a fetus. This ruling came in response to a rule formulated by a company that manufactured batteries. The rule banned all women from handling certain materials known to carry a risk of causing birth defects. Women's groups opposed the ban because they feared it would be used to exclude all women from higher-paying jobs that involve physical labor or other potential hazards to pregnancy. If you want to avoid these kinds of jobs during your pregnancy, you'll have to speak up and say so.
The real danger in using a computer all day comes from the physical strain of sitting. If you work at a computer terminal, you might be prone to eye, neck, wrist, arm, and back strain, especially during pregnancy. To avoid these problems you should take frequent breaks; find excuses to walk around every once in a while (frequent trips to the bathroom are the perfect cover). While sitting at your desk, do some stretching exercises to keep your muscles from cramping. Rotate your ankles. Shrug your shoulders up, back, and down. Roll your head forward and around. Bend forward at your waist, tense your back muscles and relax. Sit up tall and throw your shoulders back. Any of these simple moves will help you feel more comfortable.
excerpted from: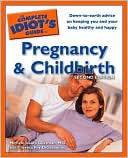 Excerpted from The Complete Idiot's Guide to Pregnancy and Childbirth © 2004 by Michele Isaac Gliksman, M.D. and Theresa Foy DiGeronimo. All rights reserved including the right of reproduction in whole or in part in any form. Used by arrangement with Alpha Books, a member of Penguin Group (USA) Inc.
To order this book visit Amazon's website or call 1-800-253-6476.