Physically Strenuous or Hazardous Work During Pregnancy
Manufacturing and health care
Manufacturing
To judge your safety on the job, you need to know what chemicals you are exposed to each day. In fact, by law you have the right to this information, and your employer is obliged to tell you. The Occupational Safety and Health Administration (OSHA) lists a number of substances the pregnant women should avoid, including the following:
| | |
| --- | --- |
| Aluminum | Dimethyl sulfoxide |
| Alkylating agents | Ethylene oxide |
| Arsenic | Lead |
| Benzens | Lithium |
| Carbon monoxide | Organic mercury compounds |
| Chlorinated hydrocarbons | Polychlorinated biphenyls |
Your boss or union representative might be able to help you determine if you are at risk in your present position. You can also get useful information from the National Institute of Occupational Safety and Health. Their online article "The Effects of Workplace Hazards on Female Reproductive Health" found at www.cdc.gov/niosh/99-104.html is very informative. If you find that your job might endanger the health of your baby, you can either transfer to another position or take an early leave, if you can swing it financially.
Health Care
Working in the health-care industry as a doctor, nurse, dentist, veterinarian, or lab or diagnostic technician puts you in constant contact with germs and diseases. Of course this is an inevitable part of the job, which you knew from the outset, but now that you're pregnant, you need to look at your work from the point of view of your baby. Exposure to certain toxic chemicals used for sterilization of equipment, anesthesia gases that leak from tubes in the operating room (or even the exhaled breaths of recovering patients), radiation used for diagnostic and treatment purposes, as well as infections from patients with hepatitis B and AIDS can be harmful to the fetus. Take a close look at what you are exposed to each day and talk to your doctor about any safety concerns. If you're worried about the health of your baby, ask to be reassigned to a safer position or consider taking an early leave of absence.
excerpted from: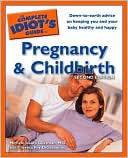 Excerpted from The Complete Idiot's Guide to Pregnancy and Childbirth © 2004 by Michele Isaac Gliksman, M.D. and Theresa Foy DiGeronimo. All rights reserved including the right of reproduction in whole or in part in any form. Used by arrangement with Alpha Books, a member of Penguin Group (USA) Inc.
To order this book visit Amazon's website or call 1-800-253-6476.