Original URL:
http://pregnancy.familyeducation.com/general-health-and-safety/things-to-avoid-while-pregnant/57442.html
Physically Strenuous or Hazardous Work During Pregnancy
Women are tough and they can do the work of any man, but your baby is not so tough right now. There are some jobs that can be too physically strenuous or toxic for a woman to continue throughout her pregnancy. These include…
Work that requires hours of standing: Cooks, nurses, salesclerks, waiters, police officers, and others, have jobs that keep them on their feet all day. This can be difficult for a pregnant woman, but it might be downright dangerous for her unborn baby. Studies have found that long hours of standing during the last half of pregnancy disrupt the flow of blood. Too much standing on the job might increase the risk of the mother developing high blood pressure, as well as the risk of premature birth. That is why women in high-risk pregnancies, who work more than four hours a day on their feet, should switch to a desk job or quit by the 24th week. Those who stand for 30 minutes out of each hour should change jobs or quit by the 32nd week. (Women who are feeling fine on the job and have no medical problems, however, should feel free to continue working.)
Jobs that require physical strength: Do you have to lift, push, bend, shove, and load materials all day? If you do, many experts believe you should ask for a job reassignment or quit by the 20th week of pregnancy. If you do this kind of work less intensely or strenuously, you can wait until the 28th week.

No matter what kind of job you have, you'll soon hear people say, "Put that down; it's too heavy for you." Heavy lifting is a concern during pregnancy, but the term heavy lifting is hard to define. Generally, it's agreed that pregnant women can lift items that weigh 25 pounds or under, all day long without harm. Also, they can occasionally lift items that weigh up to 50 pounds with no problem. This explains why you can carry your toddler and preschooler occasionally, but not constantly. But if your job requires you to lift weights between 25 and 50 pounds or more on a regular basis, you should ask for reassignment or take your leave on this schedule:

Leave by the 20th week of pregnancy if you're repetitively lifting weights over 50 pounds.
Leave by the 30th week if you are occasionally lifting weights over 50 pounds.
Leave by the 34th week if you are repetitively lifting weights between 25 and 50 pounds.

Jobs that involve toxic chemicals: The list of jobs that involve dangerous substances is miles long. Consider the artist who works with paint and solvents all day, the dry cleaner who breathes in cleaning fumes, the agricultural or horticultural worker who works with pesticides, the photographer who uses toxic chemicals to develop pictures, the tollbooth attendant who breathes in car and truck exhaust, or the printer who works with lead substances. All these and countless other occupations cause harm to the fetus. Examine your work and substitute dangerous materials for safe ones (perhaps by using water-based rather than lead-based paints). You can avoid the toxic aspects of your work by asking for reassignment or protect yourself by wearing a facemask and using better ventilation. No matter what you do, be sure to talk to your doctor about your job and the dangers of toxic exposure.
Computer Work
In the 1980s, certain studies suggested a link between video display terminals (VDTs) and problem pregnancies. The media picked up the story, and it persists today. But since that time, many more studies have been conducted on the connection between working in front of a computer screen all day and birth defects and miscarriages. So far, there seems to be no relationship between the two. The level of radiation emitted from a computer is less than the level you receive from sunshine. Panic is certainly not called for.
But if you are still worried about radiation from your computer, you can take some steps to make yourself feel better.
Try to reduce the amount of time you spend in front of the screen when you are not actually using the computer.
Some people feel safer when they put a grounded electrically conductive filter over the screen.
Pregnancy Facts
The Supreme Court recently ruled that women of reproductive age could not be barred from working with materials that might be hazardous to a fetus. This ruling came in response to a rule formulated by a company that manufactured batteries. The rule banned all women from handling certain materials known to carry a risk of causing birth defects. Women's groups opposed the ban because they feared it would be used to exclude all women from higher-paying jobs that involve physical labor or other potential hazards to pregnancy. If you want to avoid these kinds of jobs during your pregnancy, you'll have to speak up and say so.
The real danger in using a computer all day comes from the physical strain of sitting. If you work at a computer terminal, you might be prone to eye, neck, wrist, arm, and back strain, especially during pregnancy. To avoid these problems you should take frequent breaks; find excuses to walk around every once in a while (frequent trips to the bathroom are the perfect cover). While sitting at your desk, do some stretching exercises to keep your muscles from cramping. Rotate your ankles. Shrug your shoulders up, back, and down. Roll your head forward and around. Bend forward at your waist, tense your back muscles and relax. Sit up tall and throw your shoulders back. Any of these simple moves will help you feel more comfortable.
Manufacturing
To judge your safety on the job, you need to know what chemicals you are exposed to each day. In fact, by law you have the right to this information, and your employer is obliged to tell you. The Occupational Safety and Health Administration (OSHA) lists a number of substances the pregnant women should avoid, including the following:
| | |
| --- | --- |
| Aluminum | Dimethyl sulfoxide |
| Alkylating agents | Ethylene oxide |
| Arsenic | Lead |
| Benzens | Lithium |
| Carbon monoxide | Organic mercury compounds |
| Chlorinated hydrocarbons | Polychlorinated biphenyls |
Your boss or union representative might be able to help you determine if you are at risk in your present position. You can also get useful information from the National Institute of Occupational Safety and Health. Their online article "The Effects of Workplace Hazards on Female Reproductive Health" found at www.cdc.gov/niosh/99-104.html is very informative. If you find that your job might endanger the health of your baby, you can either transfer to another position or take an early leave, if you can swing it financially.
Health Care
Working in the health-care industry as a doctor, nurse, dentist, veterinarian, or lab or diagnostic technician puts you in constant contact with germs and diseases. Of course this is an inevitable part of the job, which you knew from the outset, but now that you're pregnant, you need to look at your work from the point of view of your baby. Exposure to certain toxic chemicals used for sterilization of equipment, anesthesia gases that leak from tubes in the operating room (or even the exhaled breaths of recovering patients), radiation used for diagnostic and treatment purposes, as well as infections from patients with hepatitis B and AIDS can be harmful to the fetus. Take a close look at what you are exposed to each day and talk to your doctor about any safety concerns. If you're worried about the health of your baby, ask to be reassigned to a safer position or consider taking an early leave of absence.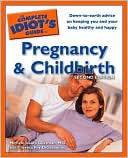 Excerpted from The Complete Idiot's Guide to Pregnancy and Childbirth © 2004 by Michele Isaac Gliksman, M.D. and Theresa Foy DiGeronimo. All rights reserved including the right of reproduction in whole or in part in any form. Used by arrangement with Alpha Books, a member of Penguin Group (USA) Inc.
To order this book visit Amazon's website or call 1-800-253-6476.
© 2000-2016 Sandbox Networks, Inc. All Rights Reserved.