Using Over-the-Counter Medications During Pregnancy
Digestive and sleep aids
Digestive Problems
All pregnant women quickly find out that a tiny little fetus can cause an awful lot of upset in the digestive tract. Everything from heartburn to constipation can be blamed on the body changes of pregnancy. If these troubles persist, your doctor might approve the use of certain medications that will bring relief. But not all medications for digestive problems are safe for your baby, so be sure to ask before you buy.
Antacids: Heartburn and indigestion are badges of expectant motherhood; few can escape them during pregnancy. If you can live with the occasional discomfort, it's best to stay away from medications altogether. But if you're suffering week after week, talk to your doctor. He will recommend an antacid that's best for you—not all are safe.
Popular antacids such Maalox, Mylicon, Milk of Magnesia, Gelusil, Di-Gel, Tums, and Rolaids are all safe to take during pregnancy. (Some have the added bonus of containing compounds that will relieve excess gas.) Others, however, should be avoided: Alka-Seltzer, for example, is not recommended because it contains aspirin. Alka-Mint and Alka-Seltzer Advanced formula, however, are generally safe to use because they do not contain aspirin. Pepto-Bismol is on the "avoid" list; it contains an element closely related to aspirin and should not be used during pregnancy.
Newer antacids like Pepsid, Zantac, and Tagamet have not been thoroughly tested for safety during pregnancy, but there does not seem to be a problem with their use and there have been no reports of fetal harm. Ask your doctor before you use one of these antacids.
Constipation: If you're pregnant, you might be constipated also-for some women the two just go together. If you haven't had a bowel movement for days and you're in pain, ask your doctor about using a stool softener or laxative. These medications will soften your stools so they pass easily and relieve the pressure on your bowel. Using a stool softener or laxative is good in an emergency, but don't get into the laxative habit. If you're not careful you can "train" your bowels to need the laxative in order to work normally. After you get relief, keep your bowels in shape naturally—drink lots of water, eat high-fiber foods, such as fruits and vegetables, and exercise.
Diarrhea: When you have diarrhea, you want relief. Diarrhea ties you to your house; it tires you out, and it flushes fluids and nutrients out of your body. Relief is easily found in over-the-counter medications, such as Kaopectate or Imodium A-D. Both are safe to take when you're expecting.
Sleep Aids
In the first three months of pregnancy, a woman can sleep anywhere, anytime. How ironic that later in pregnancy, she sometimes can't sleep at all! When you're losing sleep because you are anxious about having a baby, or your legs ache, or the baby kicks and keeps you up, or because of 100 possible pregnancy-related reasons, you might be tempted to take a sleeping pill. You should think again and then talk to your doctor.
Most over-the-counter (OTC) sleeping pills contain antihistamines, which, in addition to clearing your sinuses, depress your central nervous system. This includes Excedrin P.M., Sominex, Sleep-Eze, and Unisom. Only Unisom contains a type of antihistamine that is considered relatively safe to use during pregnancy. When used infrequently and in the right dose, Unisom should not affect your baby.
Whether pregnant or not, sleeping pills should not be used more than a few nights in a row. A side effect of antihistamines is a mental slowdown that can make it difficult to concentrate, focus, or drive a car the morning after. These OTC drugs are usually effective for only mild, temporary forms of insomnia. Because they work quickly but don't last very long, these products work only to help you fall asleep. They can't help with frequent nighttime awakenings. If you are plagued by insomnia during your pregnancy, talk to your doctor before you try to medicate yourself to sleep.
excerpted from: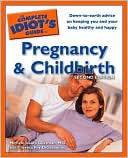 Excerpted from The Complete Idiot's Guide to Pregnancy and Childbirth © 2004 by Michele Isaac Gliksman, M.D. and Theresa Foy DiGeronimo. All rights reserved including the right of reproduction in whole or in part in any form. Used by arrangement with Alpha Books, a member of Penguin Group (USA) Inc.
To order this book visit Amazon's website or call 1-800-253-6476.