Natural Pain Relief in Labor
Staying active and relaxation techniques
During your labor, encephalins and endorphins (feel-good hormones) are released to provide you with some naturally induced pain relief. Many women now are also more aware of natural techniques, such as staying active, and of the availability of complementary therapies that they can use in addition to, or instead of, medical pain relief during pregnancy, childbirth, and following the birth. Some of these therapies are self administered and some are practitioner administered. A knowledge of the benefits of different therapies and how to use them is important if you are considering using them to deal with pain in labor.
Staying active
Being active in labor has been shown to help women to deal with pain and reduce the length of labor. Historically, women have been active in labor for centuries, but a medicalization of childbirth in the West led to an acceptance that women lie in bed, and a common image of a laboring woman is one lying in bed. Although during labor you may want to rest on a bed between contractions, many women find that when they feel supported, they will instinctively move around and do not cope well lying down, which can increase pain and hamper the progress of labor as your baby pushes against gravity. You may find it helpful to take a walk, roll on a birthing ball, rock in a rocking chair or change positions when you get too uncomfortable. There are certain interventions, such as the use of electronic fetal monitoring, IVs, and some types of analgesia, that will limit your mobility.
Relaxation techniques
There are various techniques you can use to help you relax during labor; if you're relaxed, it will be easier to stay calm and in tune with your body. These techniques include focusing on your breathing; listening to music (perhaps humming to the beat of a favorite tune during a contraction); and listening to a meditation CD.
Learning how to breathe slowly and steadily in labor helps you focus and stay calm. Usually, your breathing responds to how you're feeling and may increase slightly during a contraction, or you may hold your breath, which can make you feel light-headed. If this happens, you need to focus and steady your breathing. Your nurse will remind you to breathe slowly and steadily. Breathing in for five and out for seven slows your breathing down, helps you relax, and stops you from panicking.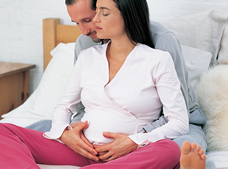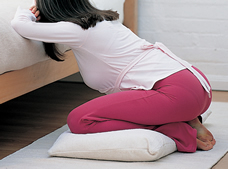 excerpted from:
Excerpted from Pregnancy Day by Day.
Copyright © 2008 Dorling Kindersley Limited.
Buy this book now!