Your Six-Week Checkup
Your baby's first checkups
Assessing your baby
Your baby's checkup
A pediatrician will want to see your baby at around 4 days, 1 month, and 2 months to do a physical checkup and look at how your baby is growing and developing.
The doctor will perform a similar examination to the newborn checkup (see The first medical checkup). He or she will examine your baby's hips, spine, eyes, heart, and the pulses at the top of the legs. In boys, it's important to check that the testes are located in the scrotum. This is also a chance to look for subtle problems such as a heart murmur, which can develop after birth. Your baby will be weighed and his head circumference measured. The doctor will ask how your baby is feeding and check for signs of jaundice. Your baby's development will be checked too: whether he has head control, is starting to smile, and can focus on an object or face a foot away, and follow a moving object. Your baby should receive some immunizations during these early visits. All of these findings will be recorded in a record of your baby's growth and development.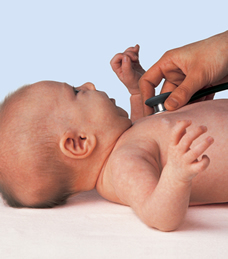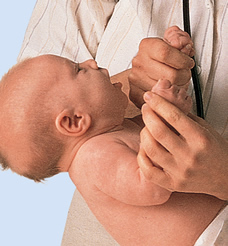 excerpted from:
Excerpted from Pregnancy Day by Day.
Copyright © 2008 Dorling Kindersley Limited.
Buy this book now!