Pregnancy: Weeks 31-34
This month you feel (and probably look) huge! Your baby is putting on more fat layers and weight every day—about half a pound a week! In fact, she'll gain more than half her birth weight in the seven weeks before delivery.
Week Number 31
Lungs and digestive track are nearly mature.
The baby can see in the womb. (If you shine a bright light on your belly, he might move his head to follow the light or reach out to touch it.)
Eyebrows and eyelashes are complete.
Week Number 32
Layers of fat are being deposited beneath the skin.
Arms and legs are fully proportioned in relation to the size of the head.
The baby is passing water from his bladder.
The baby's movements might be less frequent and less forceful because he is running out of room to move around.
Week Number 33
The baby is practicing breathing by inhaling amniotic fluid to exercise his lungs.
Some babies have a full head of hair by now; others have only a bit of fuzz.
Boys' testicles are descending into the scrotum.
Week Number 34
The skeleton hardens, although the head remains pliable to maneuver through the birth canal.
The skin becomes less red and wrinkled.
The toenails are present and the fingernails have reached the tips of the fingers.
In the eighth month you might feel this pregnancy idea is getting old. It's time to move on to motherhood! Be patient and give your baby just a little more time to plump up before he makes his grand entrance.
excerpted from: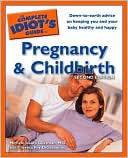 Excerpted from The Complete Idiot's Guide to Pregnancy and Childbirth © 2004 by Michele Isaac Gliksman, M.D. and Theresa Foy DiGeronimo. All rights reserved including the right of reproduction in whole or in part in any form. Used by arrangement with Alpha Books, a member of Penguin Group (USA) Inc.
To order this book visit Amazon's website or call 1-800-253-6476.