First Purchases for Baby
Infant seat, strollers, and baby clothes
Daddy Alert!
Don't pretend you're not interested in shopping for the baby. Jump in there and help your partner pick out important baby items. All these things will be a big part of your life very soon, so you might as well grab the chance to have a say in what you purchase.
Hey Mom!
Bundling the new baby up in a blanket for a trip home in cold weather sounds like a good idea, but if you're using a car seat on the drive home, the legs need to be free to straddle the seat belt. Instead of bunting or blankets with a sacklike bottom, use a cozy warm fleece suit with legs so that baby can be easily clicked into the car seat.
Infant seats: These little reclining chairs for babies are very handy. They let the baby sit up and watch you while you work around the house and they hold the baby in a good position for feeding. (They are not to be used as car seats!) Unfortunately, these seats cause many injuries when they fall, especially off high tables. Look for an infant seat with a nonskid, wide bottom that will discourage tipping. Never leave your baby alone in an infant seat, and place the seat only on the floor-never on top of furniture.
Strollers: When shopping for a stroller look for one that won't tip over. As your baby grows and begins to wiggle and turn, the stroller should hold its ground. Also look for a sunshade and front wheels that pivot. It's also nice to have a model that reclines for comfortable napping.
Baby clothes: Who can resist buying a carload of those adorable baby outfits? But as tempting as this is, the fancy little dresses and three-piece suits are rarely used and quickly outgrown. You're better off focusing on a practical day-to-day wardrobe that includes the following:
At least six stretchy, snap-up-the-front, one-piece pajamas. These are the most useful fashion wear for newborns. They live in them!
At least a half dozen front-snapping t-shirts.
Another half dozen pairs of socks or booties. (Booties that tie around the ankle will stay on longer than socks.)
Diapers. You wouldn't be the first parent to bring home a new baby and realize an hour later that babies need diapers. Get them now. If you are using disposable diapers, look for the newborn size that have a cut out around the navel. These are good for about three weeks while the baby's cord stump is drying out. If you're using cloth diapers, you'll need six diaper wraps or plastic pants and diaper pins, and several dozen diapers.
A hat. Whether the weather calls for a wool hat or a sun hat, you'll want to keep your baby's head covered.
A snowsuit if you live in a cold region.
These are the basics for now. After the baby is home, you'll find there are several hundred other items you'll need to purchase. But this list of essential items will make you feel well-equipped, at least when the baby first arrives.
excerpted from: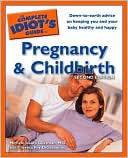 Excerpted from The Complete Idiot's Guide to Pregnancy and Childbirth © 2004 by Michele Isaac Gliksman, M.D. and Theresa Foy DiGeronimo. All rights reserved including the right of reproduction in whole or in part in any form. Used by arrangement with Alpha Books, a member of Penguin Group (USA) Inc.
To order this book visit Amazon's website or call 1-800-253-6476.