The First Signs of Pregnancy
Fatigue and nausea
Fatigue
Daddy Alert!
There's good news and bad news about your partner's growing breasts. They look terrific—but you might not be allowed to touch. In the beginning, the breast and nipple can become very sensitive and will hurt if "manhandled." Check with your partner before jumping in to play.
Baby Talk
Your pregnancy can be broken into three trimesters. The first trimester of your pregnancy is months one, two, and three. The second trimester of your pregnancy is months four, five, and six. The third trimester is months seven, eight, and nine.
Daddy Alert!
Your wife isn't milking this pregnancy when she says she just can't vacuum today. It's very likely she really doesn't have the energy to stand up, never mind push something heavy around. This is your chance to play the hero. Take the vacuum out of her hand, give her a pillow, and direct her to bed. She'll love you for it (and maybe, just maybe) she'll recoup enough energy to feel sexy tonight.
Ask a pregnant woman (especially in the first and last trimesters) what is the one thing in the whole world she would like most at that exact moment, and she's likely to say "To take a nap." The fatigue of early and late pregnancy can be overwhelming—you just can't keep your eyes open.
This tiredness is very natural and a good sign that your body is hard at work. In the beginning, you can't see the results of these efforts, but inside you is a construction crew that works around the clock to build your baby's life-support systems within the womb. Your body is also very actively adjusting to the many physical and emotional demands of pregnancy. So much to do and so little time in which to do it! At the same time that you're so tired, the fluctuating levels of hormones can disrupt sleep patterns and make it difficult to get continuous, sound sleep. When you finally do fall into bed at the end of the day, you might find that you wake several times during the night.
Fatigue and disrupted sleep are your body's way of sending a message that says: Rest! What a wonderful excuse for an afternoon nap, sleeping late, for turning in early. Of course, your daily schedule will have something to say about this: Sleeping during a business meeting is still not part of the corporate culture, and sleeping while your other children are running wild won't do, either. But where there's a will (and eyelids that feel like bricks) there's a way.
Speak up and ask for help here. Can your mother watch the kids while you sneak in some zz's? Can your husband do the grocery shopping on the weekend so you can put your feet up and rest? Can you find an out-of-the-way corner at work where you can put your feet up during lunchtime? Don't say, "I can't." Your feet are dragging and your eyes are closing because your body is demanding the rest it needs to do the job of creating a child. You've got to give it a break occasionally.
Because exhaustion might be a constant companion during this time of your life, make it your friend. Work with it, not against it. If you're feeling tired right now, close the book, put your feet up, pull up the covers, and take a snooze.
Nausea
One of the annoying things about nausea in pregnancy is that it's just not the same for everybody. Some pregnant women have none—not one minute—of the queasy, stuck-on-a-merry-go-round feeling that just won't quit. Some have a gnawing uneasiness that makes them feel like they should be throwing up, but nothing happens. For others, daily vomiting is a constant occurrence in the first three months. Some women seem to develop "morning sickness" five minutes after conception; others feel fine until week eight or so and then they can't get their head out of the toilet bowl. That's the fun part about being pregnant: You just can't be sure what's around the corner until it happens to you.
It is not completely clear why about one half of all pregnant women suffer from nausea. It might be because of rising hormone levels. Their highest peak is in the first three months of pregnancy, when nausea is usually most severe. There's also a theory that nausea might be the body's way of keeping you away from harmful foods. Your sense of smell is immensely improved during pregnancy and the slightest spoilage on a piece of cheese or meat can throw your stomach into a cartwheel. In either case, take heart in knowing that nausea is a sign of a healthy pregnancy.
Pregnancy Facts
If your "morning sickness" has nothing to do with the morning, don't panic. The term morning sickness is very misleading. Although nausea might be worse in the morning because the stomach is empty, any woman who has experienced nausea in her pregnancy will tell you that it's a morning, noon, and night occurrence.
Hey Mom!
Be sure to brush your teeth after you vomit. This, of course, not only will make your mouth feel fresher, it will get rid of the bacteria in vomit that can seriously damage your teeth and gums.
There are a few things you can do to manage the nausea of pregnancy. For starters, try to keep track of the smells that trigger the upchuck reflex. If you throw up in the sink every time you open a can of dog food, hand the duty over to your partner. What other smells set you off? Coffee? Fried foods? Cooked vegetables? Then steer clear. If you have to stay out of the kitchen for a while (don't be too upset about this) hand the apron to your partner or order out.
You can also calm an upset stomach by keeping food in it. Sometimes women try to beat their nausea by staying away from food. But an empty stomach is much more apt to be upset because the stomach acids have nothing to digest and because blood sugar drops when there's a long stretch between meals. Start eating very small meals throughout the day. Keep nutritious snacks, such as dried fruits or whole grain crackers with you at all times. Nibble even when you're not hungry.
Don't force yourself to eat anything. When you're throwing up every day, of course you'll worry that your baby might not be getting all the nutrients she needs. But what good is eating a bowl of steamed broccoli if you're going to flush it down the toilet a few minutes later? True, you might not gain much during the first few months, but most women put on only two to four pounds then anyway. Such a small increase doesn't have an impact on the baby's growth at that point. Most women who have morning sickness gain as much weight by the end of pregnancy as women who haven't had the problem. For now, eat whatever you can keep down.
excerpted from: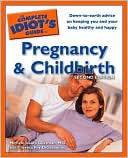 Excerpted from The Complete Idiot's Guide to Pregnancy and Childbirth © 2004 by Michele Isaac Gliksman, M.D. and Theresa Foy DiGeronimo. All rights reserved including the right of reproduction in whole or in part in any form. Used by arrangement with Alpha Books, a member of Penguin Group (USA) Inc.
To order this book visit Amazon's website or call 1-800-253-6476.