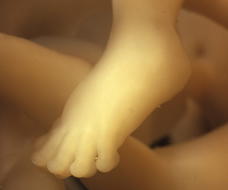 Your baby today
Now the toes are lengthening and a gentle arch to the foot is beginning to take shape. Your baby can grasp her feet at will but has difficulty bringing them up to her mouth: this is not a problem a little later in pregnancy.
It's time for another routine prenatal appointment to ensure everything is progressing well with you and your baby.
You may have another prenatal appointment at around 16 weeks, if you had your last appointment at around 12 weeks. You'll be weighed.
Your urine will be tested, and your blood pressure measured, as well as the baby's heart rate monitored. Furthermore, the doctor should be able to hear your baby's heartbeat (see You are 16 Weeks and 4 Days), which can be very reassuring.
Women who do not have the nuchal translucency scan at around 11-14 weeks, may be offered one of two blood tests, known as the triple test or quadruple test, which are screening tests for Down syndrome.
This appointment also offers you an opportunity to discuss any concerns you may have, and your doctor will report the results of the routine tests (see Routine blood tests) you had at your first prenatal appointment, or shortly thereafter.
If your blood test results show that your hemoglobin levels were low, you may be offered a prescription for iron.
As A Matter Of Fact
Maternity wear first appeared around the middle of the 19th century.
At this time a prudish society felt that pregnancy should be hidden. For this same reason, and for the well-being of mother and child, women were encouraged to stay in bed in the weeks leading up to the birth.
Focus On... Your body
Does my belly look big in this?
You'll need to choose clothes that accommodate your growing belly
, but that doesn't have to mean investing in a whole new
maternity wardrobe
just yet. The following innovations will help keep you comfortable and extend the life of your normal clothes for a few weeks at least:
Pregnancy support pants:

these stretch with you and ease the strain on your lower back, while giving you a smoother outline.

Pants expander:

an elastic belt that enables you to wear your jeans with a burgeoning belly. Alternatively, loop a hairband-or, for extra girth, a slice cut from a pair of tights-around the button, through the buttonhole and back.

Belly band:

a wide band of stretchy fabric that you wear on your belly, to conceal the gap between your top and waistband.

Bra extenders:

hook on to the fastening at the back of your bra to add up to 3 in (8 cm).

Borrowing:

you can borrow clothes from your partner or friends who are slightly larger than you.
excerpted from:
Excerpted from Pregnancy Day by Day.
Copyright © 2008 Dorling Kindersley Limited.
Buy this book now!