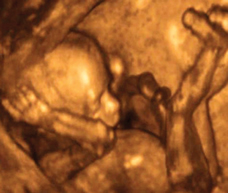 Your baby today
In this image the whole baby is seen in one view. The legs, held straight, will now be kicking more strongly and, especially if you have had a baby before, you will be increasingly aware of these movements over the next few weeks.
You might want to think about signing up for prenatal classes now since in many areas they get filled up well in advance.
Prenatal classes help to prepare you for the birth of your baby. They usually start in the sixth or seventh month. You'll learn about the signs that you're in labor; breathing and relaxation techniques; pain-relief options; and medical interventions. You'll also be given practical advice on caring for your newborn baby, which can be invaluable if you're a first-time parent.
Depending on where you live, there are various types of classes. These range from classes run by a nurse or other certified instructor at the hospital or classes run by organizations like Lamaze International (lamaze.org) or the Bradley Method (bradleybirth.com). Classes are a great way to meet other expectant parents, and by doing so you'll gain an invaluable mutual support system through the rest of your pregnancy and the early weeks of parenting.
By attending prenatal classes with you, your partner can help to prepare for the labor and early weeks of parenting. Classes are also a good way for your partner to meet other dads-to-be. The significant role fathers can play during labor and in the early weeks of parenting is widely acknowledged, and as a result prenatal classes have become much more father-friendly.
Focus On... Twins
Classes for two
Since twins are likely to arrive ahead of schedule, you should definitely look into signing up for prenatal classes now so that you can start them early. Besides, your belly could be very large toward the end, and you may feel less mobile and inclined to go. Because twins sometimes need special care, you should arrange a tour of the Neonatal Intensive Care Unit too.
In some areas, there are special prenatal sessions for those having twins or more, often in the evenings. If your hospital doesn't provide these, a neighboring hospital might. Ask your doctor.
Find a classmate
If you're single, you don't have to go it alone. There's no reason why you can't go to a class with a friend or relative-preferably the person who will be attending the birth. If you'd prefer not to do this, you could find out if there are any classes in your area for single expectant moms. You may feel more comfortable in this environment and you will get the opportunity to meet other women who are in the same position as you.
Don't skip classes just because you're single: they're an invaluable way of learning about pregnancy, labor, and parenting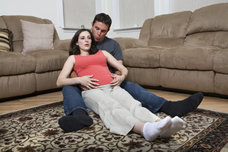 excerpted from:
Excerpted from Pregnancy Day by Day.
Copyright © 2008 Dorling Kindersley Limited.
Buy this book now!