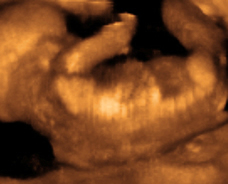 Your baby today
Your baby appears to be quite thin on early scans. Fat reserves are not yet laid down underneath the skin, which can seem quite thin and almost transparent. An ultrasound image also highlights the underlying bony skeleton, enhancing this effect.
At around this time you'll have another scan, and your baby will get a thorough health checkup.
From 18-20 weeks most doctors' offices or hospitals offer a detailed ultrasound scan, which is termed an "anatomy" scan. The scan is used to check the baby's overall development and examine his organs and body systems (see Your 20-week Scan) to check for signs of problems. For most women and their partners, this scan will reassure them that all is progressing well with the baby's development.
The scan can take some time to perform because of the detailed measurements and investigations taking place. The sonographer can only do the checks when the baby is in the correct position-this can be a challenge, given that the baby is likely to be moving around a lot. If the position of your baby makes it difficult to do all the checks, you may be asked to walk around for a little while and then return, or even to come back in a week or two for another attempt.
Exercising in water
Water is a great environment to work out in during pregnancy: the added support for your belly and extra resistance will enable you to maintain your fitness.
When standing, the water should be just above your waist-too deep and you will not be stable enough and too shallow and you won't get enough support from the water.
You are likely to find pregnancy water aerobics classes at your local gym, but here are a few simple exercises you can do yourself:
Running in place:

bring your knees up and push your arms forward and back in a pumping motion. Run for 3-4 minutes, if possible, but always stop if you feel tired. This exercise has cardiovascular benefits, and will help tone your legs and arms.

Bicycle exercise:

stand in the water and place a float under each arm. Once you're comfortable, lean back slightly and move your legs in front of you as if you are rotating the pedals on a bicycle. Continue the cycling motion for 3-4 minutes, if possible, but always stop if you feel tired. This exercise will help you maintain your fitness and help tone your legs. It's also a good way to strengthen your back and arms.

Arm exercises:

stand with your feet apart and knees slightly bent, then crouch to submerge your shoulders in the water. Lift your arms from your sides to the height of your shoulders and back down again. Pull your arms down in the water toward you and push up as hard as you can. This exercise will help tone and strengthen the muscles in your arms, back, and abdomen.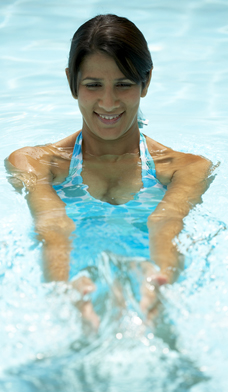 excerpted from:
Excerpted from Pregnancy Day by Day.
Copyright © 2008 Dorling Kindersley Limited.
Buy this book now!