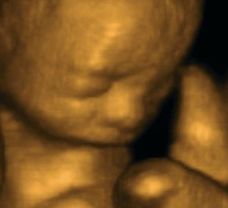 Your baby today
Here the baby's head is looking down toward the chest. The right arm is bent at the elbow to lie across the neck, the left arm is only just visible as it is partly in shadow, and finally the tip of a knee can be seen tucked up just below the right forearm.
You can expect to be subjected to a few unwelcome birth stories, whether you want to hear them or not!
It appears to be a rite of passage for some women to describe the birth of their babies in minute detail, literally giving an hour-by-hour account. For these women, it appears to be part of the recovery process and they like nothing better than a new audience, and, especially, a woman who is pregnant for the first time. So you'll no doubt find yourself on the receiving end of a few birth horror stories-sometimes from complete strangers!
These women may feel it's their duty to "warn" you about the "reality" of childbirth, and what you should and shouldn't do-for example, "definitely have an epidural, otherwise the pain is horrendous." Remember that every woman's experience is different and stay focused on your own birth plan. Childbirth is undoubtedly difficult for some women, while others have straightforward deliveries, without complications. Tell the story-teller you'd rather not hear the gory details but promise to book a date for a joint debrief once your baby is born!
Mother's help
The prospect of giving birth and then taking care of a newborn can be daunting. For some moms, hiring a doula is the perfect way to ensure a gentle progression from pregnancy to motherhood.
Doulas are women who "mother the mother" by providing emotional and physical (but nonmedical) support before, during, and after childbirth. Widespread research shows that the presence of a doula can help you have a shorter, easier birth, making it less likely that you'll need pain relief or medical intervention (including an epidural or cesarean). To find out more about hiring a doula, visit dona.org/mothers/find_a_doula.php.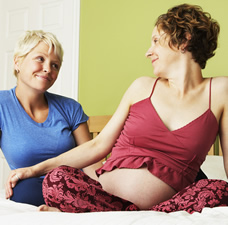 Time To Think About
Birth partners
The benefits of having a supportive birth partner are indisputable, so it's a good idea to think about it now.
Research shows that women who receive continuous emotional and physical encouragement during labor are less likely to need pain relief or medical intervention such as an epidural, assisted delivery, or cesarean, and should experience a shorter labor.
Women who feel their birth partner was supportive are more likely to view their birth in a positive light, and to take to motherhood and breast-feeding easily, and are less prone to postpartum depression.
Your birth partner doesn't have to be the baby's father (although he may be there as well); in fact, studies indicate that a woman may do the job better. A close female friend who's had her own children could be ideal; your mom is another option.
You could consider hiring a doula (see "Mother's help" at left).
excerpted from:
Excerpted from Pregnancy Day by Day.
Copyright © 2008 Dorling Kindersley Limited.
Buy this book now!