Pregnancy Fatigue Boosters and Zappers
Coffee: If you haven't given up caffeine during your pregnancy, you might think coffee is the elixir of energy. But in fact, it's a big part of your problem. Caffeine might give you a temporary boost, but the drop in energy that follows leaves you far worse off than before.
Sugar: Sugar works a bit like caffeine. A Snickers bar might give you a quick perk, but the drop in blood sugar that follows is a double whammy to your body's efforts to stay alert. Try to avoid sugary products.
"Hidden" caffeine: Don't forget the "hidden" sources of caffeine that can throw your body onto the perk-up-fall-down roller coaster. Colas, chocolate, and cocoa are all apt to aggravate your sleepy state.
Carbohydrates: Carbohydrates can calm your body and promote a good night's sleep. Try a complex-carbohydrate snack (such as crackers, cereal, bread, or pasta) before bed.
Nutrasweet: Before bedtime, avoid foods with the artificial sweetener Nutrasweet (watch those diet sodas!) It is a stimulant that keeps the brain active and will make it even more difficult to sleep soundly.
Cigarettes and booze: Not only are these things bad for your developing baby , but they also add to your fatigue. Stay away.
Chamomile: Go natural. Try a cup of chamomile tea before bed. Chamomile is an herb famous for its ability to help people sleep soundly.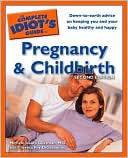 Excerpted from The Complete Idiot's Guide to Pregnancy and Childbirth © 2004 by Michele Isaac Gliksman, M.D. and Theresa Foy DiGeronimo. All rights reserved including the right of reproduction in whole or in part in any form. Used by arrangement with Alpha Books, a member of Penguin Group (USA) Inc.
To order this book visit Amazon's website or call 1-800-253-6476.
Related Content