Pregnancy Exhaustion Exterminators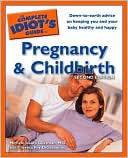 Excerpted from The Complete Idiot's Guide to Pregnancy and Childbirth © 2004 by Michele Isaac Gliksman, M.D. and Theresa Foy DiGeronimo. All rights reserved including the right of reproduction in whole or in part in any form. Used by arrangement with Alpha Books, a member of Penguin Group (USA) Inc.
To order this book visit Amazon's website or call 1-800-253-6476.
Related Content