Prenatal Care Options
Deciding where to have your baby
Where you give birth
This important decision doesn't have to be made at your initial appointment, but your midwife or doctor may discuss the options at this time. It's wise to be aware of the risks, benefits, and consequences of your choice. If you have a preexisting problem, or one that develops during pregnancy, this must be factored into your decision on where you will give birth.
In the hospital
Some women prefer to give birth in a hospital with doctors and medical equipment close by. Also, some women need specialized care and input from obstetricians because of existing conditions or problems that develop in labor. In this case, the obstetrician and the midwife will work closely together. Other specialists may also need to be involved during labor, for example if a woman has diabetes or a heart condition.
In a birthing center
These units provide a homelike setting. They are led by midwives with no obstetric input and have facilities such as birthing tubs and pools. The goal at a birthing center is to make labor and birth more natural, with less monitoring and fewer routine medical procedures and interventions. Some pain medication may be available, but epidurals are not. Some birthing centers are next to or affiliated with hospitals so that, if necessary, you can be transferred quickly. Birthing centers are an option that is recommended for low-risk pregnancies.
At home
A home birth is an option for women who want to give birth in familiar surroundings. However, a home birth is only advised for women who have low-risk pregnancies and for those with no preexisting medical problems. In the US, home births are considered controversial because complications can develop during the labor or the delivery, even in women with low-risk pregnancies. The American College of Obstetricians and Gynecologists and the American Medical Association oppose home births because of the potential for complications.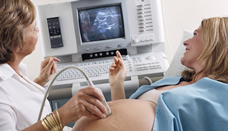 Your options
Informed choice
Being able to choose the type of care you receive is one of the most important aspects of pregnancy and childbirth. Make sure that you have the most up-to-date, evidence-based information available so that you can make informed decisions. The care you receive should take into account any special needs you have, such as a disability, or cultural or religious beliefs. You should be able to discuss the options with your doctor and feel free to ask her whatever you want, change your mind, and know that your preferences, regardless of the recommendations made by the doctor, will be supported.
excerpted from:
Excerpted from Pregnancy Day by Day.
Copyright © 2008 Dorling Kindersley Limited.
Buy this book now!