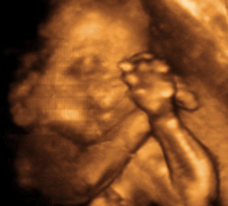 Your baby today
This baby has her hands held up in front of her face. In the top right-hand corner, the curved inner lining of the uterus can be seen. Shadows in the image give the impression of hair but ultrasound is not detailed enough to show hair-even if there was any to see at this stage.
Going to prenatal classes together is a good way for your partner to stay closely involved with your pregnancy.
Not all dads-to-be are eager to go to prenatal classes. They might not feel the classes apply to them, and may fear that they will be asked to do exercises that they find embarrassing.
If your partner is reluctant, discuss it with him, pointing out what the classes are for and why you feel that you need his support. You could explain that you want him to be informed about labor so that he is not anxious in the delivery room. He might find it useful to talk to male friends who went to classes when they were expectant dads. Classes may include some sessions with men and women together and others where the women go on their own, for example to practice breathing techniques, while the men have a separate session where they can share any concerns. If time off work is an issue for your partner, ask for a list of what topics will be covered each week and pick those sessions that you think are the most relevant for him. If your partner is well informed, he'll feel more involved in the pregnancy and more confident in helping you during labor and birth.
Focus On... Relationships
Anticipating changes in your relationship
It might seem obvious, but once your baby is born your relationship won't just be about you and your partner any more. Suddenly there is a tiny new person around, who wakes during the night and who has her own needs. By necessity, after your baby is born you and your partner will pay less attention to each other. There may also be less physical intimacy between the two of you, not least because you both will be very tired.
It's best to talk about, and acknowledge, these issues before the birth. This way, you and your partner will better accept that these factors are a normal part of making the life change from coupledom to being a family.
Time To Think About
Family leave
Thanks to the Family and Medical Leave Act (FMLA), most companies must give employees (men and women) up to 12 weeks of unpaid family leave after your baby is born. The rules: If your company has fewer than 50 employees, they don't have to offer FMLA. Also, you must have worked for the company for at least one year. It's a good idea to ask your human resources department about your company's policy about leave and have your partner do the same.
excerpted from:
Excerpted from Pregnancy Day by Day.
Copyright © 2008 Dorling Kindersley Limited.
Buy this book now!