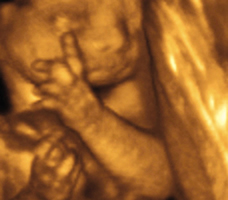 Your baby today
A finger is held close to the eye in this image. The eyes are shut for most of the time but also a simple reflex action will prevent a stray finger (or toe) from touching the eye. Furthermore, the fingernails are still well away from the fingertips at this time.
Deciding to go it alone is never an easy option, but with the right support, you can look forward happily to your baby's birth.
It's reassuring to know that many women have babies on their own and do not find life an endless struggle. Although it would be wrong to pretend that parenting alone is as easy as it is when you share the care, with additional support it is possible. Even if you are in a relationship, you may feel you are going it alone at times. You may have very strong reasons why you want a baby, for example your increasing age, and this determination will give you strength and focus.
It is helpful for all pregnant women to find someone to talk to and confide in. This could be your mother or a close friend or relative. As you are making far-reaching decisions about your future, it's important that you have support, accurate information, and time to think things through without fear, panic, or pressure from others. Finding somebody you really trust and whom you know can give you support when you need it-especially in labor and in the first days and weeks with your baby-may help relieve any pressure you are under. It will also enable you to think more calmly and clearly about your situation and make plans.
It's worth, even at this early stage, starting to think about who you would like to ask to be your birth partner: this is a big decision that should not be rushed.
Building a support network
It's important for all pregnant women to have emotional and practical support, and this is especially true if you're single.
Go to all your prenatal appointments and build a relationship with your doctor; she is an invaluable source of information.
Sign up for prenatal classes. If you're single, you may find that daytime courses are less populated by "couples"; this gives you a chance to build up a network of female friends. Also try to go to classes, such as yoga and water aerobics.
Give plenty of thought to choosing your birth partner: a trusted friend, or perhaps your own mother, who is likely to be thrilled to be asked to share this experience with you.
Don't be too proud to accept offers of help from friends and family – most will genuinely want to be involved now and after the birth.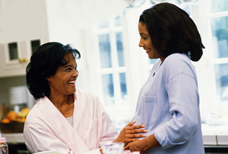 excerpted from:
Excerpted from Pregnancy Day by Day.
Copyright © 2008 Dorling Kindersley Limited.
Buy this book now!