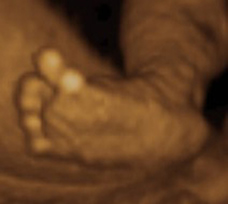 Your baby today
This is a close-up of how your baby's foot is looking now. Your baby will easily put his feet on top of his head one minute only to bring them down the next, so just because your baby is kicking you at one end it doesn't mean the head is at the other.
Pregnancy can be a time of information overload, and sometimes it's difficult to know which sources are reliable.
In today's society women are simply overloaded with information about pregnancy, from newspapers, magazines, books, and the internet. Photographs of glamorous pregnant celebrities, who look as if they don't have a care in the world, abound in the media. Two sources on the same topic can offer conflicting opinions. Although the internet can be a wonderful source of useful information, it has drawbacks: you don't know who has written an article on a website, it may not have been written by a health professional, and some recommendations may even contradict standard medical advice. This means that constantly scouring the internet and reading everything you find can be confusing and scary.
Articles telling you that you risk the health and well-being of your baby by doing something can make you feel inadequate. Keep telling yourself that women have been having children for centuries without the aid of the internet! If reading lots of information makes you feel empowered and better able to make informed choices, then read away, but if it makes you feel confused then don't. A sensible course might be to pick just one reliable book or information source to read instead.
Focus On... Nutrition
Immunity-boosting blueberries
According to a US study, blueberries topped a list of more than 40 fruits in terms of antioxidant activity. They are also a source of fiber, which is great during pregnancy, especially if-like many women-you suffer from constipation. Blueberries also contain nutrients that can prevent or repair damage to the body's cells. This may strengthen the body's immune system and your ability to fight infections.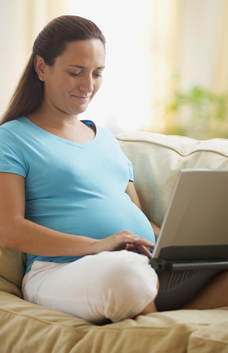 Ask A... Doctor
I plan to bottle-feed. What do I need to buy in advance?
You'll need plastic bottles (nipples are included), a sterilizing unit or kit , which often has everything you need, and your preferred formula. Each comes in a range of options, so you need to decide what works best for you.
As you get to know your newborn baby, you may have to change the type of nipple and/or formula, so it's not advisable to buy too many before the birth.
Excerpted from Pregnancy Day by Day.
Copyright © 2008 Dorling Kindersley Limited.
Buy this book now!
© 2000-2016 Sandbox Networks, Inc. All Rights Reserved.