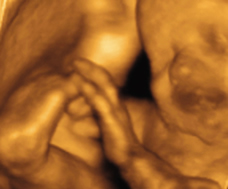 Your baby today
Your baby often grasps one hand with the other or, as this image shows, grasps a foot. This helps with important sensory feedback to the brain as the nerves within the brain start to mature and become insulated along their length to carry signals more effectively.
Start getting your baby's room ready now, while you still have the energy for shopping and helping with decorating.
It's recommended that your baby sleeps in the same room as you for the first six months, but many parents-to-be still like to prepare the baby's bedroom. This room can still be used for the baby's clothes and any newborn gifts you're given. You might also want to breast-feed, and set up a diaper-changing area in there.
Check out garage sales and eBay for second-hand baby equipment. This can be a good opportunity to buy some bigger items at a reduced price. If you do buy a second-hand crib, make sure it's certified by the Juvenile Product Manufacturers Association and that the slats are no more than 23/8 in apart. Hand-me down clothes, sheets, and towels also save money. If this isn't your first baby you may find that you have more or less everything you need, except for disposables, such as diapers (unless you are using cloth diapers-see Choosing diapers).
Although it's good to be prepared (and sometimes babies do arrive early), remember you won't be trapped in your house forever so you don't need to prepare as if for a siege. If you don't have something you need or you run out, you can always get it after your baby is born.
Ask A... Doctor
Do I need a carriage/travel system/stroller?
Most parents-to-be are unsure about the type of stroller they'll need for their baby and, since there are a number of options and types available, this can make choosing the right item difficult. You will need to buy some type of travel equipment for your baby and what you choose will vary depending on your circumstances.
If you mostly drive a car, you may want to consider a car seat that attaches to a carriage, or a car seat and separate travel crib. If you intend to walk a lot, you may find a lightweight stroller more appropriate than a carriage. Keep in mind how long your baby will be in the stroller: it must be comfortable, have a lie-flat option for the first six months, and adjustable seat options as your baby grows. The stroller must also be weatherproof.
If you do a lot of "around town" travel, you might consider a lightweight option in addition to your main system. It's a good idea to take a look around in stores and online to compare different models and get the best price.
excerpted from:
Excerpted from Pregnancy Day by Day.
Copyright © 2008 Dorling Kindersley Limited.
Buy this book now!