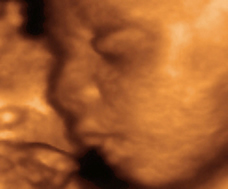 Your baby today
You may notice a change in the character of your baby's movements, reflecting the reduced amount of amniotic fluid and, consequently, space to move around in. Each movement is more likely to be felt, however, as he touches the side of your uterus.
All pregnant women need support in the final weeks, but if you're single this can be even more important.
Whether you're single by choice, or have unexpectedly found yourself in this position, you may be experiencing mixed feelings about the weeks to come. There is no doubt that going solo involves extra responsibilities and worries, but with a little help from your close friends and family, you can make these final few weeks of your pregnancy positive.
If you're concerned about going into labor alone, line up a close friend or family member who is on call at all times. He or she might want to get permission from their place of work to take leave to be with you should you go into labor. Keep yourself busy before your baby arrives, planning plenty of activities during your maternity leave.
Don't be afraid to ask people for help with shopping for last-minute baby buys or getting your home ready for your new arrival. Most people will be delighted with the honor of being asked to keep you company, and helping you get things ready.
Most importantly, take care of yourself: get organized by preparing meals you can freeze so you have plenty of healthy food in store for the weeks after the birth.
The Lowdown
Baby showers
Throwing a baby shower to celebrate the imminent arrival is a great opportunity to get together with the girls. Arrange it yourself, or ask your best friend to do the honors. Note to best friend: surprise parties are great, but consider whether the mom-to-be will want to be the center of attention.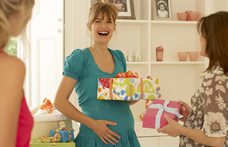 excerpted from:
Excerpted from Pregnancy Day by Day.
Copyright © 2008 Dorling Kindersley Limited.
Buy this book now!