Meeting Your Baby and Recovering: The First 12 Hours
Hours seven through 12 after birth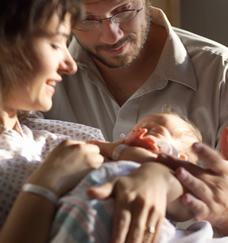 7 hours
This might be the first chance you've had to look at your baby's tiny toes, scrunched-up legs, or fine head of hair. There may be traces of greasy vernix on his skin. Perhaps he has long, flaky fingernails that need trimming or a downy fuzz of hair called lanugo on his back. He's unique and gorgeous.
8 hours
If your baby is awake, he may be hungry. At this stage, you're producing nutrient-rich colostrum, a fluid containing antibodies. Position him at the breast: he should open his mouth wide and take the entire areola, known as "latching on." Breast-feeding stimulates the release of the hormone oxytocin, which contracts the uterus. This can cause afterpains, more noticeable in second and subsequent births, which can feel like contractions. The only consolation is that with each contraction, your uterus-and hence your abdomen-shrinks back down.
9 hours
If you're up to it, you might be ready for visitors, either at home or on the unit, to admire your baby. Don't let them tire you out, though.
10 hours
Your baby's newborn checkups will take place when he is between 4 and 48 hours old. A staff pediatrician at the hospital will examine him from top to toe; listen to his heart, check his hips (and testes in a boy); and ask about the contents of his diapers.
11 hours
In many hospitals, you can spend your first night as a new family together, since rooming-in with the baby is a common practice and new dads often sleep over. This lets the nurses see how mother and baby interact. If you need to get a few hours of uninterrupted sleep after a long or difficult labor, a nurse can collect the baby from you.
12 hours
After a whirlwind of agony, ecstasy, and sheer hard labor, you need to rest when you can. If your baby is sleeping, fend off visitors, draw the curtains around your bed, or take the phone off the hook, and sleep.
After a cesarean
Your recovery
Although you've had major surgery, you'll be encouraged to get up to get your circulation going. After an epidural, this will be as soon as you've regained the feeling in your legs. After a general anesthetic, you'll be encouraged to get up when you no longer feel sleepy, usually within an hour. You won't be able to shower yet, but your nurse or midwife can give you a bed bath to help you freshen up.
You'll probably feel very tired and sore, so ask for help with positioning your baby at the breast, and take pain medication when you need it.
excerpted from:
Excerpted from Pregnancy Day by Day.
Copyright © 2008 Dorling Kindersley Limited.
Buy this book now!