The Stages of Labor
Instrument-assisted birth and induced labor
Instrument-Assisted Birth
If the baby is slow coming down the birth canal, he might need what's called an instrument-assisted birth. At this point, a woman under the care of a midwife at home or at a birthing center would be transferred to the care of a physician, who would take over the delivery process. She might also be moved to her backup hospital if the physician feels this would be best. A very long labor can endanger the life of the baby, so in some cases, forceps or vacuum extraction can be lifesavers. Forceps are large, spoon-like metal tongs, the smooth blades of which are inserted into the vagina and placed on either side of the baby's head. A vacuum extraction uses a caplike device that attaches to the baby's head and uses suction to extract the baby. These instruments are used in about 10 percent of all vaginal deliveries (especially medicated ones, in which the mother is unable to push hard enough).
Induced Labor
Although it's always best to let nature take its course, labor must be induced sometimes. This means that labor contractions are produced artificially with the use of the drug oxytocin (trade name, Pitocin). Oxytocin is a hormone that is produced naturally by the pituitary gland during pregnancy. As the cervix begins to efface and dilate, the uterus becomes sensitive to the oxytocin and reacts with contractions. Administering oxytocin as a medication can encourage the natural process of giving birth.
There are many reasons a doctor or midwife might decide to induce labor (which is always done in a hospital setting). A few common ones include the following:
A pregnancy has gone two or more weeks past the due date.
The fetus has severe Rh disease, which requires early delivery.
Labor is weak or has stalled.
A nonstress test suggests that the placenta is no longer functioning properly.
A medical condition (such as diabetes, preeclampsia, or acute kidney disease) threatens the mother's health, unless the baby is delivered.
There is a history of extremely fast prior delivery.
Pregnancy Facts
The hormone oxytocin is released by a pregnant woman when her nipples are stimulated. To induce labor naturally, she might be asked to rub her nipples and stay alert for signs of uterine contractions.
There are two ways to induce labor. If the cervix is uneffaced and closed, you will be asked to go to the hospital the night before the induction to have a special medicated gel (a prostoglandin) placed on the cervix.
As soon as the cervix is soft and effaced, oxytocin will be administered through an intravenous (IV) drip. This will cause contractions to begin. Oxytocin is administered through a needle in the arm or the back of the hand. The needle is connected with a tube to a medication bag that hangs from an IV stand. This controls dosage.
Usually an induction begins slowly, with very little use of oxytocin. Then the rate of medication is increased gradually until strong contractions build in intensity and come closer together, mimicking normal labor. If labor hasn't begun after six to eight hours, the induction will be stopped, in all probability, and a second induction might be scheduled for a later time or a cesarean will be considered.
Whether the birth is natural, medicated, instrument-assisted, or induced, eventually your baby's head will "crown." This means the doctor (and you, with the help of a mirror) can see the baby's head pushing its way through the vaginal opening. After another strong contraction and a push the head might be delivered. At this point, the doctor might tell you to stop pushing. It can be very difficult to resist the urge to push, but some doctors and midwives like to suction the baby's nose and mouth immediately, in order to remove mucus and amniotic fluid. This takes only a minute and the next push is generally the one that delivers the baby's shoulders and body. Your baby is born! Shortly afterward, the umbilical cord will be clamped and cut.
excerpted from: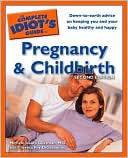 Excerpted from The Complete Idiot's Guide to Pregnancy and Childbirth © 2004 by Michele Isaac Gliksman, M.D. and Theresa Foy DiGeronimo. All rights reserved including the right of reproduction in whole or in part in any form. Used by arrangement with Alpha Books, a member of Penguin Group (USA) Inc.
To order this book visit Amazon's website or call 1-800-253-6476.