Types of Delivery
General anesthesia, and cesarean births
General Anesthesia
If you'd really like to be completely knocked out during your labor and delivery, you're not alone. Lots of women would be very happy to miss the birth, wake up, and jump right into motherhood. In years passed you might have gotten your wish. But today, general anesthesia (causing unconsciousness) is reserved in obstetrics for only a few dire cases.
General anesthesia is used only in special cases because…
It rapidly crosses the placenta and enters fetal circulation making the baby likely to be groggy at birth.
Women under general anesthesia are usually unable to assist in the birth of the baby and therefore forceps are required for a vaginal birth.
You'll miss the most joyous moment in life—the first sight of your child at birth.
You'll also miss the first opportunity to bond with your child because you'll be unconscious.
There is a risk that you will vomit while under general anesthesia, which can block the airway and cause complications and even death.
Convinced? Unless general anesthesia is absolutely necessary, you will be awake during your delivery. The state of "absolutely necessary" occurs when a nerve block is not an option. This includes…
When the mother has had previous low-back surgery or a history of a herniateddisk.
When the mother has a blood clotting disorder or low platelet count.
General anesthesia is also considered when…
Fetal distress is extreme and immediate delivery becomes urgent. In this circumstance, nerve blocks take too long to take effect.
The vaginal delivery of a breech baby requires intense manipulation of the baby's body and head.
An emergency cesarean is necessary and there is not time to administer a regional nerve block.
You should discuss medication options with your doctor/midwife before your delivery so you have an idea of what will happen when you go into labor. After that you have to trust your doctor to make the right decisions based on your immediate needs at the time of delivery.
Cesarean Birth
Cesarean birth (also called a C-section) is childbirth through an incision in the mother's abdomen and uterus. This is major surgery and carries its own potential for complications. But when a cesarean is necessary, it is the safest form of delivery for the baby. Many healthy babies who are born through a C-section would not have survived a vaginal delivery.
The reasons for a C-section birth are many and the final decision is up to the doctor. Although some women ask for a cesarean in hopes of avoiding the pain of a vaginal birth, it is not an elective operation. C-sections are performed for very specific, medically sound reasons, such as…
Failure to progress in labor. If a woman is in labor but her cervix stops dilating and the baby stops moving down the birth canal, the physician might decide a C-section is necessary to avoid fetal distress.
A very large baby. If a baby weighs over 10 pounds, there is a risk of maternal and infant injury during a vaginal birth.
A breech position. When the baby is presenting feet or buttocks first, a C-section might be the safest way to deliver the child.
Premature babies. Babies born before week 35 are more likely to be delivered by C-section. These babies are more likely to be in a breech position and often show signs of fetal stress during labor.
Previous cesarean birth. Although it is still common to do a C-section after a woman has had a previous C-section birth, many physicians are cautious when recommending that women try to have a vaginal birth with their next baby. This is called a VBAC (vaginal birth after a cesarean). It is a personal choice that every woman with a previous C-section has to make. But a VBAC is offered with the knowledge that there are risks to the baby and the mom. There is danger of uterine rupture, which would lead to a lack of blood to the baby, oxygen deprivation, and possibly death. If the uterus can't be repaired, the woman would have to have it removed (a hysterectomy). This is very rare, but it happens. In recent years, there have been more repeat elective C-sections than VBACs.
Daddy Alert!
If your partner delivers your baby by cesarean section, she'll need lots of support. Reassure her that she did a wonderful job and that having a C-section takes away nothing from her status as a champion mother. Make sure she has help when she returns home.
Cesarean delivery is a last resort. It is avoided if possible because it can cause complications that affect both infant and mother. It is major surgery and therefore causes greater blood loss and higher anesthetic risk. It also requires a longer, more expensive hospital stay, a greater need for blood transfusions, and a prolonged recovery period. But if your doctor knows in advance that you might need a cesarean, you should feel gratified that this medical option is available to give your baby the best chance of a healthy delivery. If you expect to have a vaginal delivery, you probably will, but you should also know what a C-section is so that if a medical emergency during labor makes a cesarean necessary, you'll know what's going on.
excerpted from: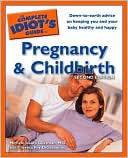 Excerpted from The Complete Idiot's Guide to Pregnancy and Childbirth © 2004 by Michele Isaac Gliksman, M.D. and Theresa Foy DiGeronimo. All rights reserved including the right of reproduction in whole or in part in any form. Used by arrangement with Alpha Books, a member of Penguin Group (USA) Inc.
To order this book visit Amazon's website or call 1-800-253-6476.